Tools, fun stuff and tips
Tools, fun stuff and tips
All our ideas – Create an online wiki survey – ask a question, seed some ideas and in a few moments you'll have your own wiki survey. Give participants the link and they will be presented with the opportunity to vote on the seed ideas and invited to give their own ideas. Then view the results with a range of visualisations.
AnswerGarden – post a question, participants post their response (up to a few words) or upvote another answer, and a word cloud is created.
Apps-4-EFL – This is a fantastic resource – a Web-Based Language Learning (WBLL) platform for teachers and students of English as a Foreign Language (EFL). It uses creative commons data and open web technologies to facilitate engaging online study.​
AutoDraw – this is a fun way to create professional looking line drawings – just draw something badly and AutoDraw will guess what you are trying to represent and offer you some relevant clipart that you can insert into your drawing instead! It's slightly deflating to be autocorrected even in the art world, particularly if you fancy your own drawing skills.
diagrams.net (online) or Drawio (desktop version) is an open source drawing platform that integrates well with Google products and unlike its commercial counterparts, has unlimited features for free users (e.g. LucidChart flowcharts are limited to 60 items for free users).
Flipgrid – It's like a discussion forum but with videos instead. Set a question, students record a short video to answer it. Students aren't required to login, it's free (there are paid upgrades) and online. ​
Flippity – Easily turn a Google Spreadsheet into other things e.g. a set of online flashcards, a mad-libs style story template, quiz show etc.
Jamboard by Google – one of the many interactive virtual whiteboards. Basic and simple – post-it type notes and basic drawing tools.
Otter Voice Meeting Notes – web-based note taker – open the platform, press record and get up to 40 minutes per session (total 600 minutes/month for the free version) transcribed.
Peerwise – Free and online – students create and answer questions created by their peers.
PhET simulations – The University of Colorado Boulder provides these free online interactive simulations for science and math. Or you can download them for offline use. They now have quite a number of HTML5 sims which are supported by all web browsers.
​Post-it Plus App – take photos of your real-life post-its on butchers paper and this app will recreate them digitally, so you can manipulate and share them.
Print Friendly & PDF – free browser plugin that cleans up a webpage before you PDF it…you decide what to keep and what to delete with the click of a button.
Stoodle – a free, online collaborative whiteboard. No login, no signup required. Works on iPad and desktop. Also check out Conceptboard for similar functions.
​Tagxedo – a word cloud generator where you can upload your own outline shape.
TextMechanic – Simple, single task, browser based, text manipulation tools that do cool stuff like remove extra line breaks or extract columns.
TimelineJS – prepare a timeline with slides to tell a story with a strong chronological narrative. Based on a Google spreadsheet.
TypographyEditor – create graphics online – free and easy to use.
Wiki survey (All our ideas) – create and run a wiki survey – create your questions, invite participants, view the most popular ideas at any time.
Wisemapping – create mindmaps online – free, open source, exportable, embeddable
WordClouds – simple, online and free. Wordclouds are a great way to get a feel for a document's contents.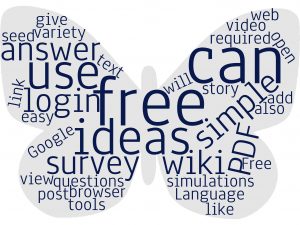 ​Workflowy – an online, shareable, cross-platform 'zoomable' document where you create simple bulleted lists of information that you can drill down into. You can also tag, add video and other objects.
Zygomatic produces several tools that are all incredibly simple to use, useful, free, and online:
Free online editor – Create flowcharts, floor plans and more; save to image or PDF. Easy to use, feature-rich.
Typography Editor – Create your own designs with backgrounds (or upload your own), badges, borders, rulers, frames, corners, and other ornaments; add text in a variety of fonts with backdrops and shadows. For PC or mobile interface. Image can be saved or shared.
Toony Tool – Create your own cartoons. You can also upload your own images and characters. Very easy to use, drop and drag.
Online chart – Create a variety of charts – all downloadable.